Attorney Robert Capovilla Receives Cherokee County Chamber of Commerce Top 10 in 10 Honor
[ad_1]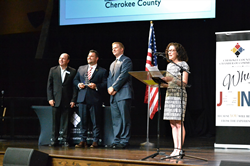 "The important lessons I learned here in Cherokee County are always incorporated into the work I do."

ATLANTA (PRWEB)
June 04, 2021
The Cherokee County Chamber of Commerce (GA) has named attorney Robert Capovilla to its list of Top 10 in 10 Young Professionals to Watch for 2021. The annual recognition program focuses on professionals under age 40 who are considered the county's up and coming leaders. Judging was conducted by an experienced committee of chamber members who evaluated each nominee's past professional achievements and awards, five to ten-year professional goals, and volunteer and community activities.
Capovilla is a co-founding partner of Capovilla & Williams, a law firm dedicated to representing individuals and families in their most important legal matters. Capovilla believes the noteworthy honor reflects largely on his steadfast commitment to achieving positive outcomes for clients who are facing life-changing challenges. He also credited his Cherokee County upbringing and values he has learned as a member of a close community which fosters integrity, compassion, and hard work.
"Although our practice routinely takes us to places outside of Georgia, the important lessons I learned here in Cherokee County are always incorporated into the work I do," said Capovilla. "I was honored to be recognized by the Chamber in this year's program and look forward to continuing my professional and charitable work in the future."
Prior to co-founding his Woodstock-based law firm, Capovilla served for 8 years as a lawyer in the U.S. Army. During that time, he handled some of the most complex cases in the military justice system and received the United States Meritorious Service Medal. He now represents military service members and veterans as a civilian lawyer while also working on behalf of families impacted by tragic events such as motor vehicle accidents, medical malpractice, and dangerous property injuries.    
About Capovilla & Williams: Located in Woodstock, Georgia, the team at Capovilla & Williams has earned a national reputation for achieving exceptional results on behalf of clients. The firm represents active and retired military personnel across the United States in a wide variety of military law matters as well as local residents and families struggling to find a way forward after a life-altering event. The firm's attorneys are known for their commitment to charitable causes and organizations as well to improving the lives of all community members, especially veterans in need.

Share article on social media or email:
[ad_2]
Source link